Introduction and technical features
Self-propelled scissor lift makes many difficult and dangerous tasks easier, such as indoor and outdoor cleaning (ceilings, curtain walls, glazing, eaves, awnings, chimneys, etc.), billboard installation and maintenance, street lights and traffic signs and maintenance, etc. This  lifting platform is characterized by its small size, flexibility and convenience. You can use it instead of scaffolding to reach the height you need and solve your problems. At the same time, you can save your expenses and valuable time.
Self-propelled scissor lift has the following features:
Safety certification
It meets the EU EN280 standard and has CE certificate.
Self-propelled at heights
Self-propelled scissor lift, which has the function of automatic walking, and it can travel quickly and slowly under different working conditions. One person can operate the machine continuously to complete lifting, advancing, retreating, steering, etc. while working at height. Compared with the traditional hydraulic platform, the work efficiency is greatly improved, and the number of operators and labor intensity are reduced. It is especially suitable for a wide range of high-altitude continuous operations such as airport terminals, stations, terminals, shopping malls, stadiums, residential properties, factories and mines.
Variable frequency speed
It only needs one person to operate, all the actions are controlled by the operating handle on the workbench, and the motor is continuously variable. Effectively extend the life of the battery and motor, the motor only consumes energy during operation.
 Extended platform
The platform can be moved out, expanding the scope of work to meet the special needs of some users.
Green environmental protection
The machine is powered by DC battery, this machine can be safely and quietly suitable for indoor or outdoor work.
Features
The pedal extension platform can spread to the working point quickly;
The foldable fence reduces the size of the whole machine;
It is very convenient to work in narrow and small space;
25% of the climbing ability, able to smoothly climb the slope;
Rotary chassis is very easy for maintenance;
The fault code is automatically displayed for easy maintenance;
Advantages
High Performance & More Secure
One-time shaping by die forging
Own EU CE certification, US ABS certification, China Classification Society certification, etc.
200% load test
PARAMETER
| Model | Platform size (m) | Load (kg) | Max.height (m) | Overall dimension (m) | platform extension M | Self weight (kg) |
| --- | --- | --- | --- | --- | --- | --- |
| GTJZ-05 | 1.67*0.74 | 230 | 5 | 1.86*0.76*2.08 | 0.9 | 1361 |
| GTJZ-06 | 1.67*0.74 | 230 | 5.8 | 1.86*0.76*2.18 | 0.9 | 1435 |
| GTJZ-6A | 2.26*0.81 | 380 | 6 | 2.475*0.81*2.158 | 0.9 | 1850 |
| GTJZ-6 | 2.26*1.13 | 550 | 6 | 2.475*1.15*2.158 | 0.9 | 2060 |
| GTJZ-8A | 2.26*0.81 | 230 | 8 | 2.475*0.81*2.286 | 0.9 | 1980 |
| GTJZ-8 | 2.26*1.13 | 450 | 8 | 2.475*1.15*2.286 | 0.9 | 2190 |
| GTJZ-10 | 2.26*1.13 | 320 | 10 | 2.475*1.15*2.414 | 0.9 | 2430 |
| GTJZ-12 | 2.26*1.13 | 320 | 11.8 | 2.475*1.15*2.542 | 0.9 | 2960 |
| GTJZ-14 | 2.64*1.13 | 227 | 13.8 | 2.84*1.39*2.59 | 0.9 | 3320 |
Main configuration list
Proportional control
Automatic brake system
Buzzer
Extension platform
Automatic pothole protection system
Emergency descent system
horn
Charging protection system
The platform locks itself
emergency stop button
work schedule
Full travel
Tubingexplosion protection system
Safety check support bar
Non-trace tires
fault diagnosis system
Standard transport forklift hole
4×2driven
Tilt protection system
Foldable the guardrail
Product material
| Safetyguardrail | Heightof 1.1m removable & folding 35 mm * 35 mm square tube |
| --- | --- |
| Platform | 3mm Anti-skid tread plate floor |
| Strut | Rectagular steel tube125mm*75mm*4.75mm material Q345 manganese steel |
| Axle pin | Oilless bearing |
| Hydraulic cylinder | 2pcs Hebei hengyu brand |
| Power storagebattery | American TROJAN brand |
| Hydraulic oil | 46# anti-wear hydraulic oil Great Wall brand |
| Electroniccontrol system | CLP Group |
| Hydraulic drivensystem | American WHITE |
| Motor pump | Switzerland BUCHER |
| Recharger | Dongguan Longsheng |
| Tyre | Bonded solid Tyre grey color |
| Surfacetreatment | Spraying plastics treatment |
Parts Details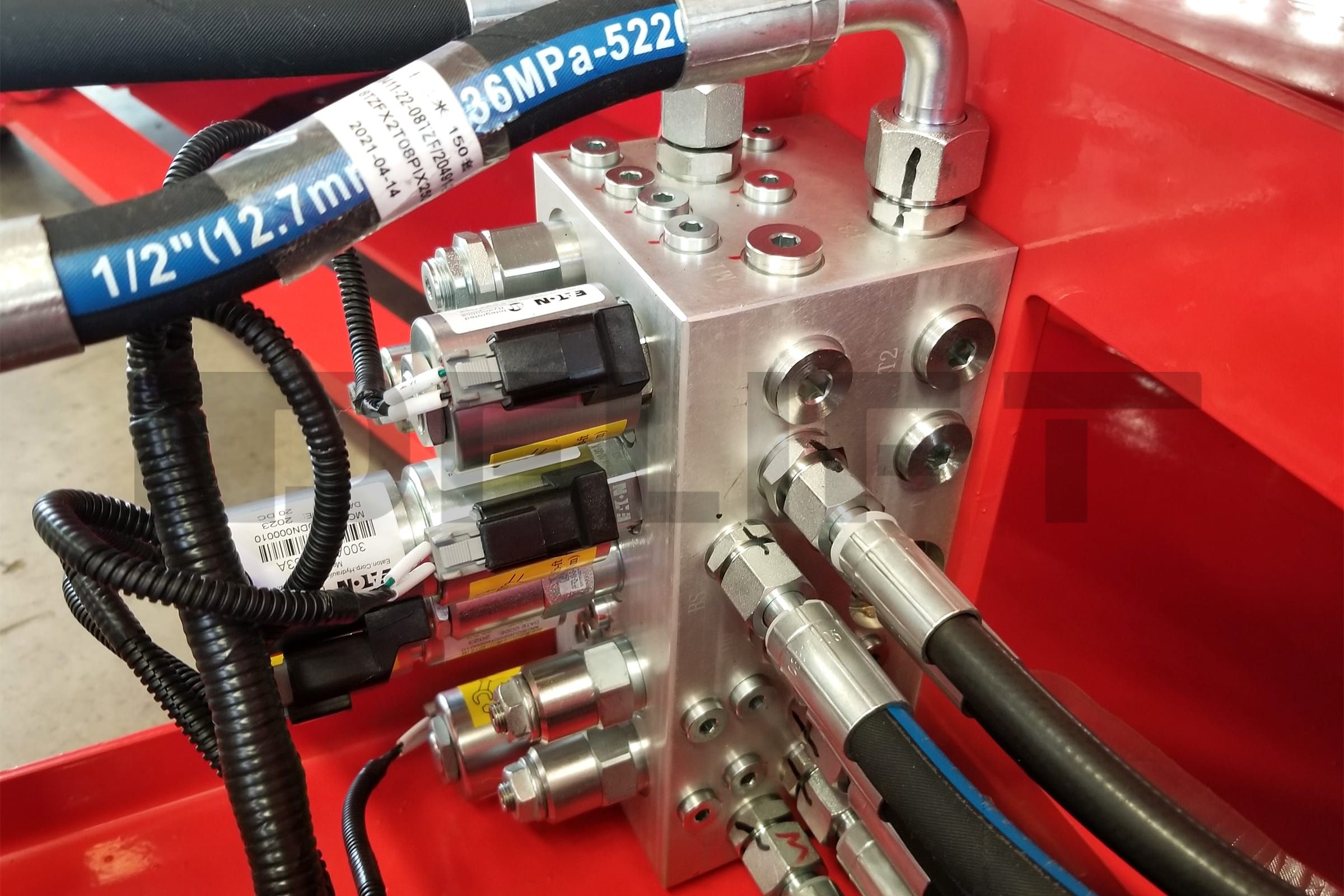 Valve block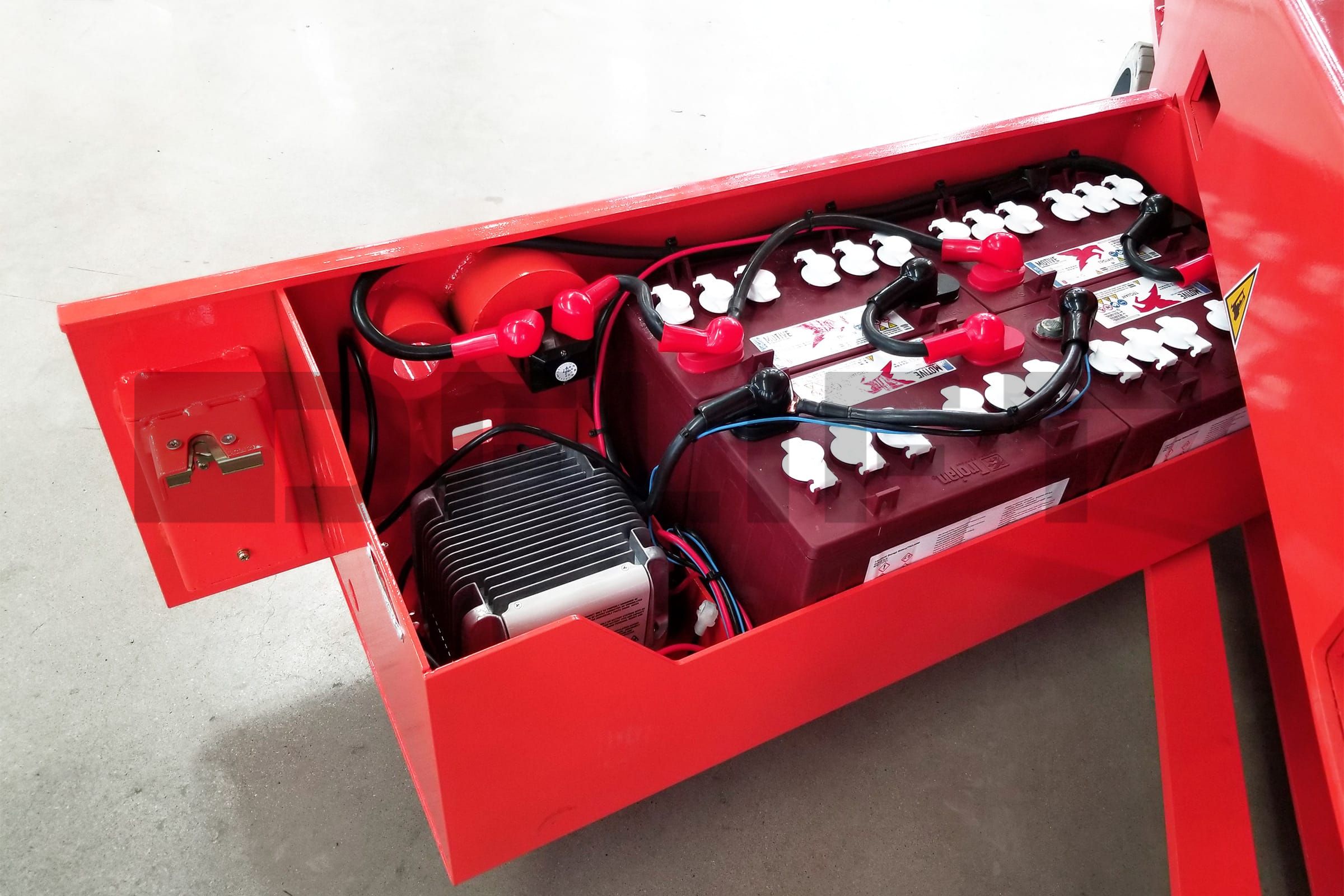 Battery and charger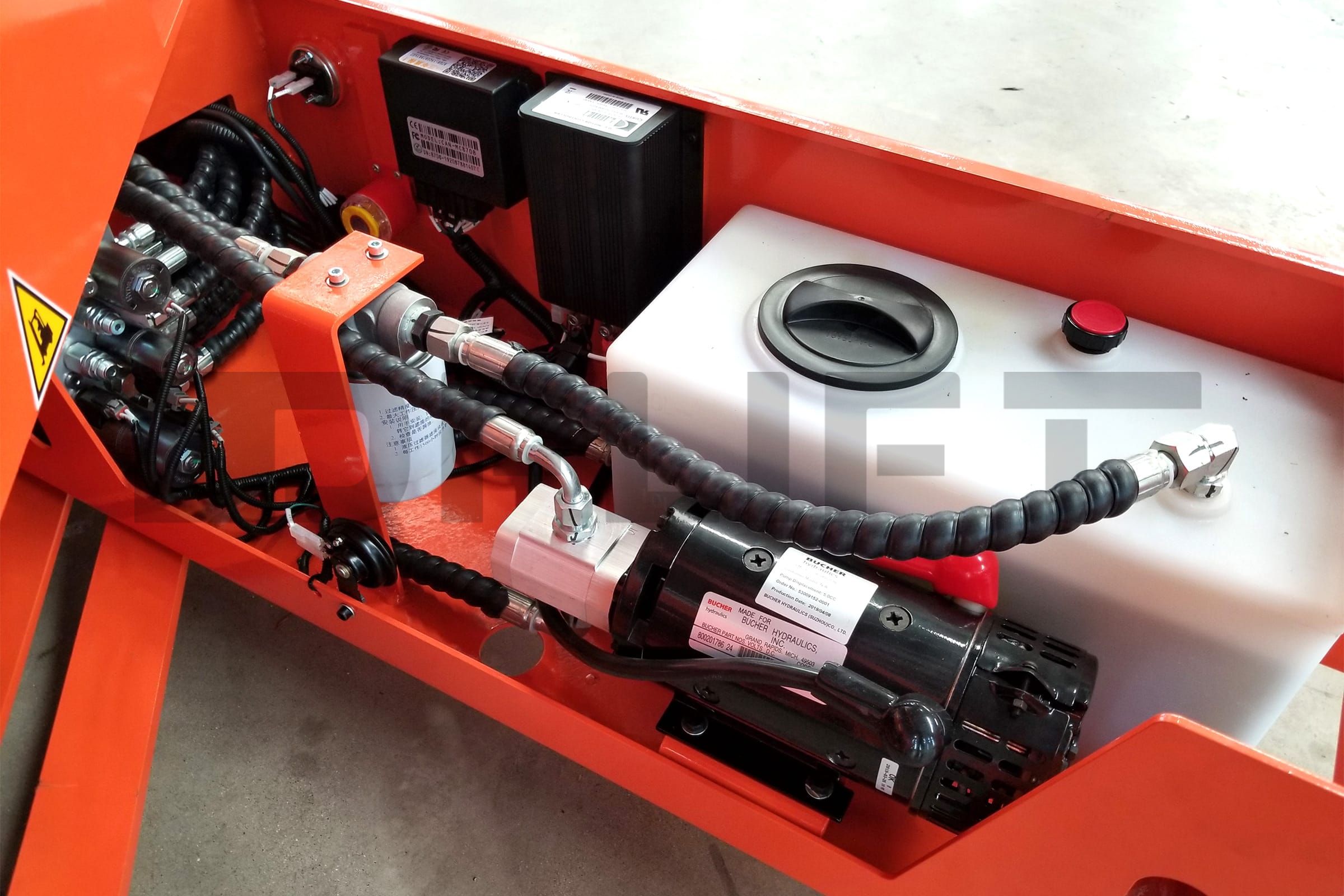 Elevating hydraulic pump station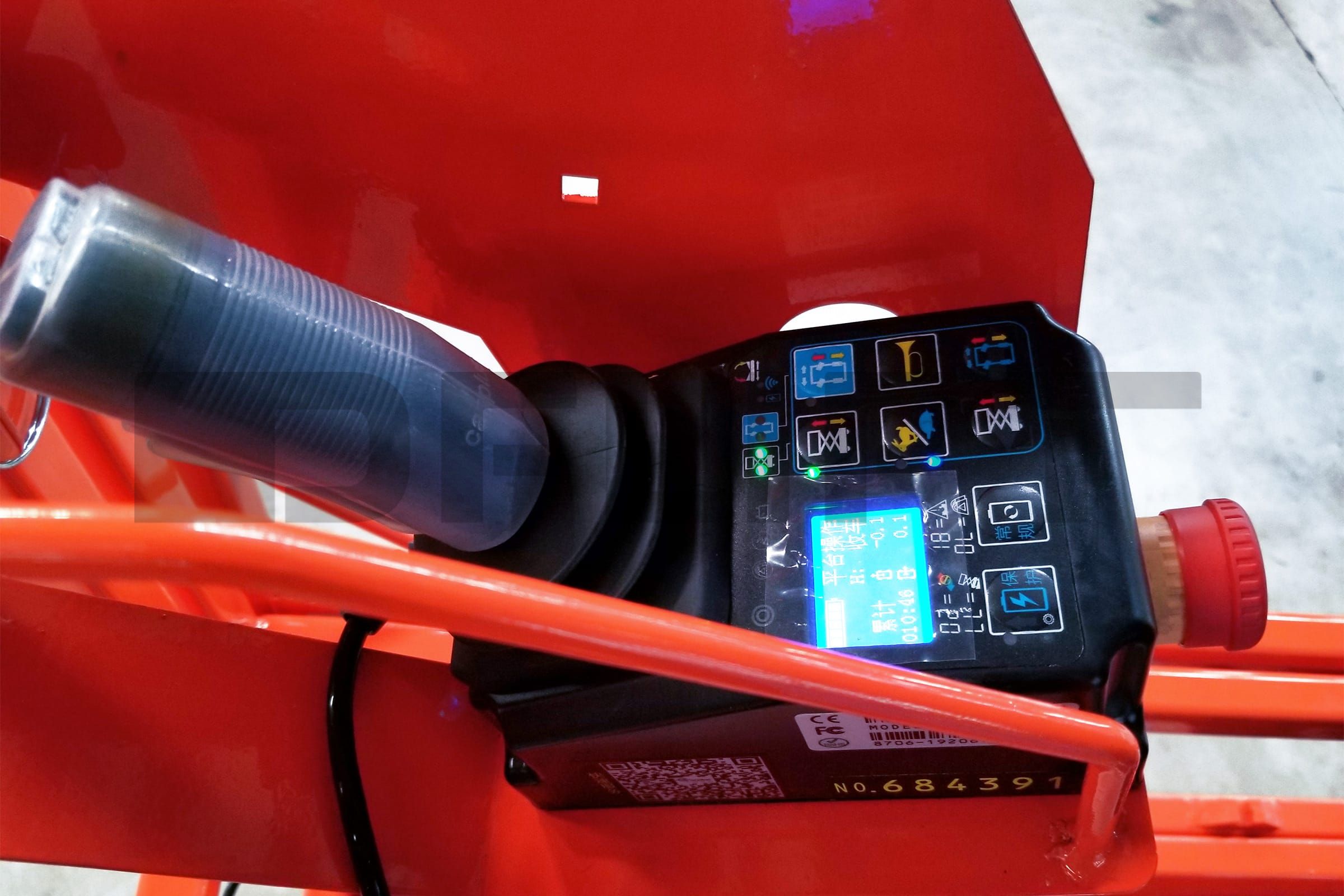 Control handle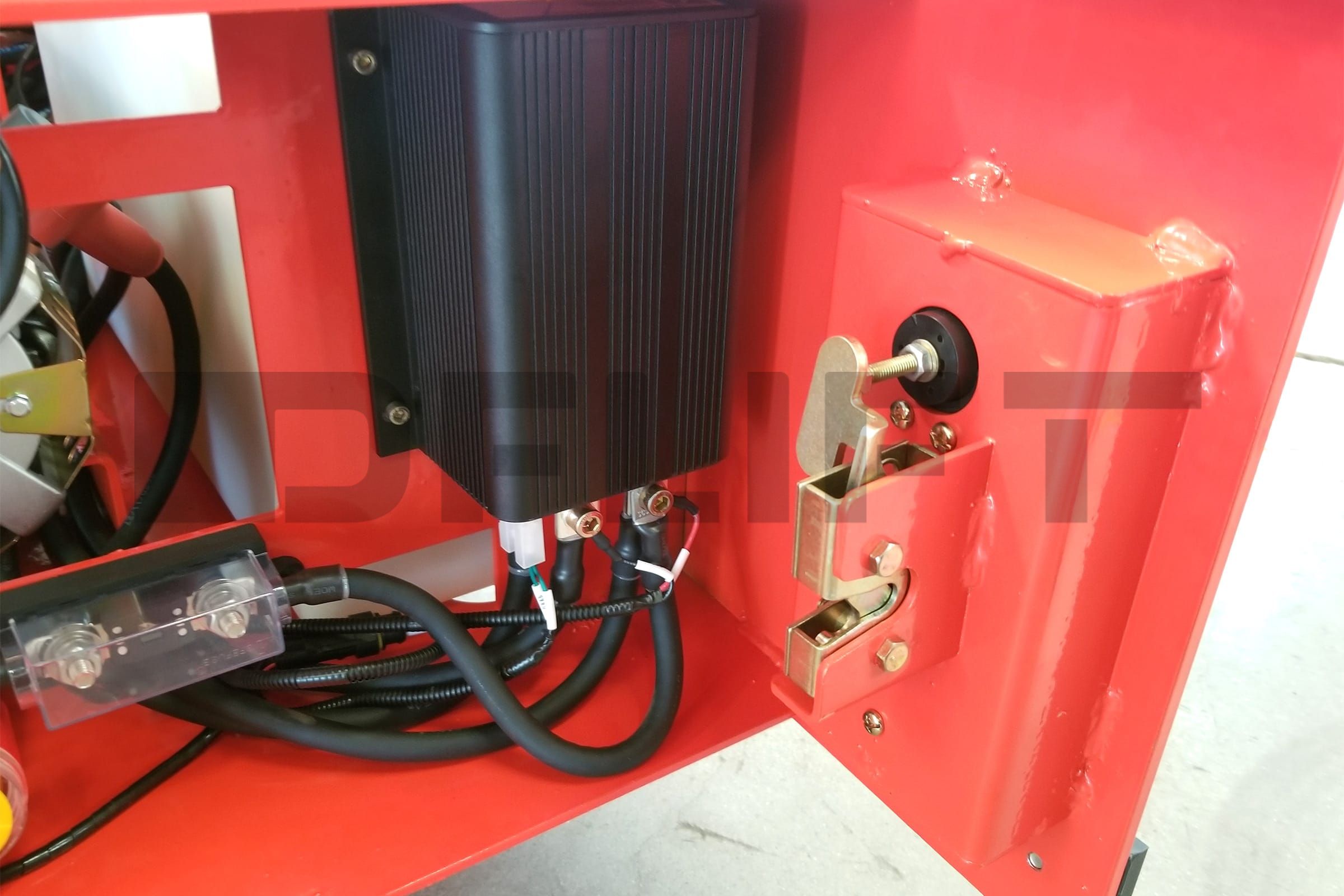 Controller and brass door lock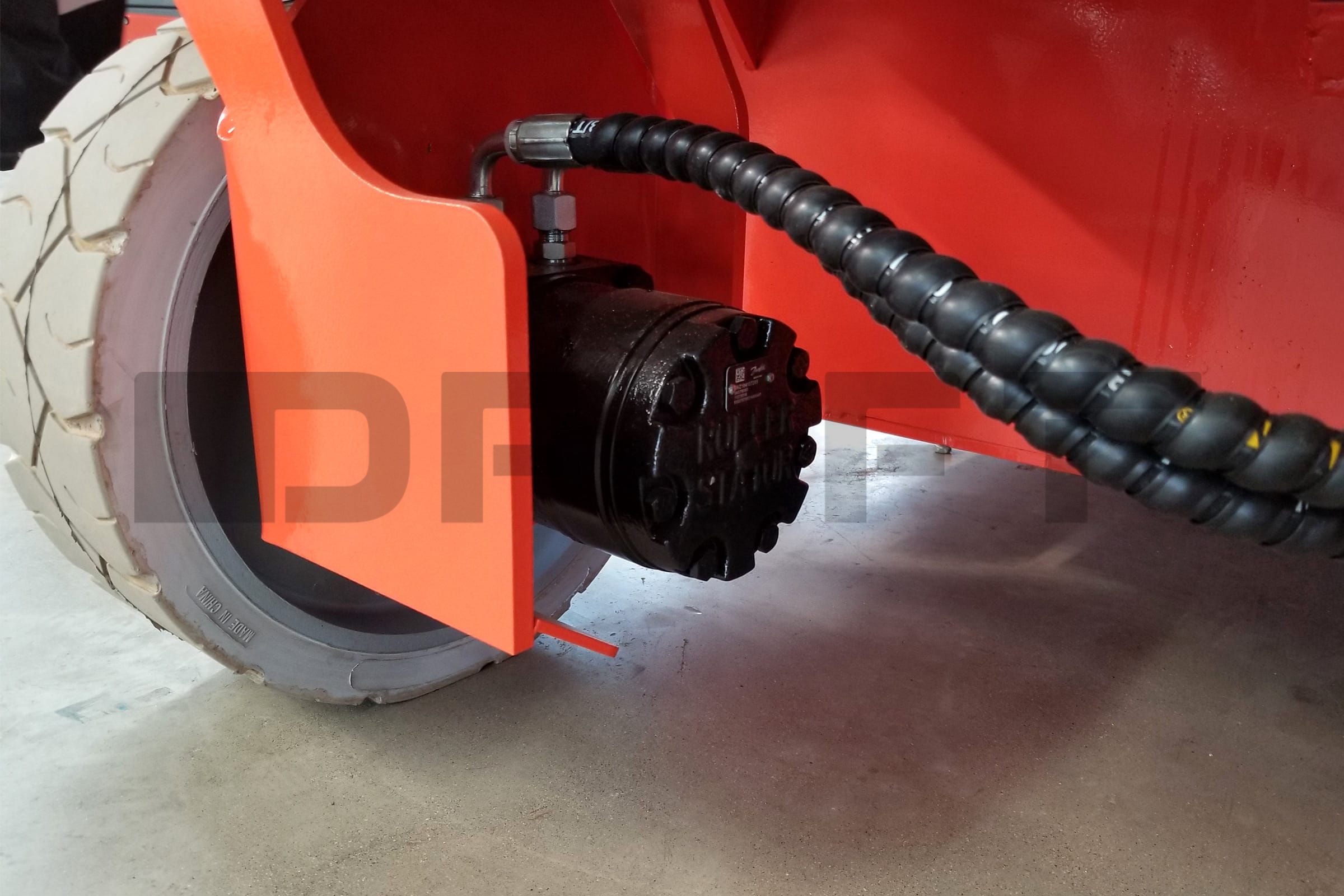 Hydraulic drive motor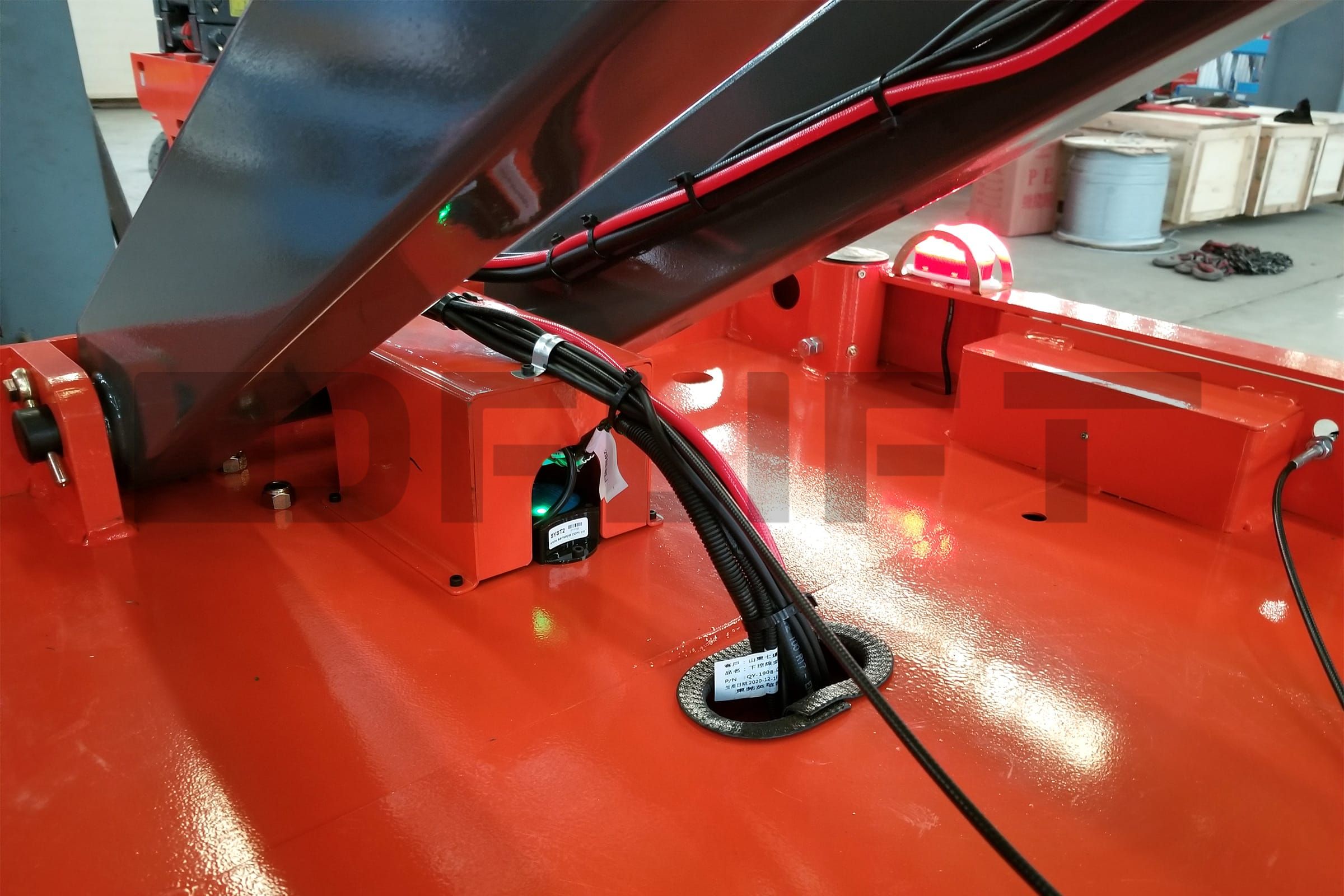 Tilt Protection System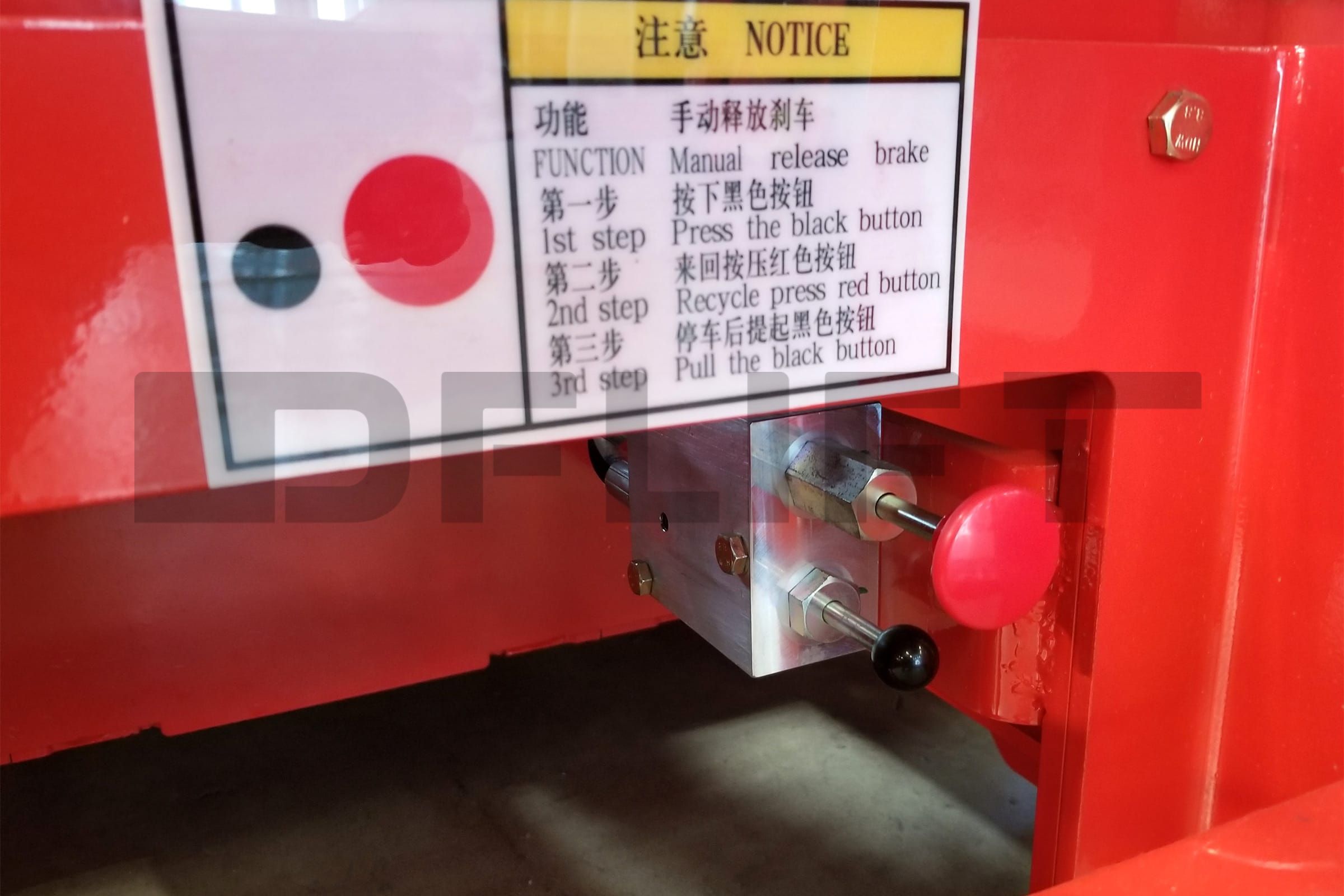 Manual release and manual pump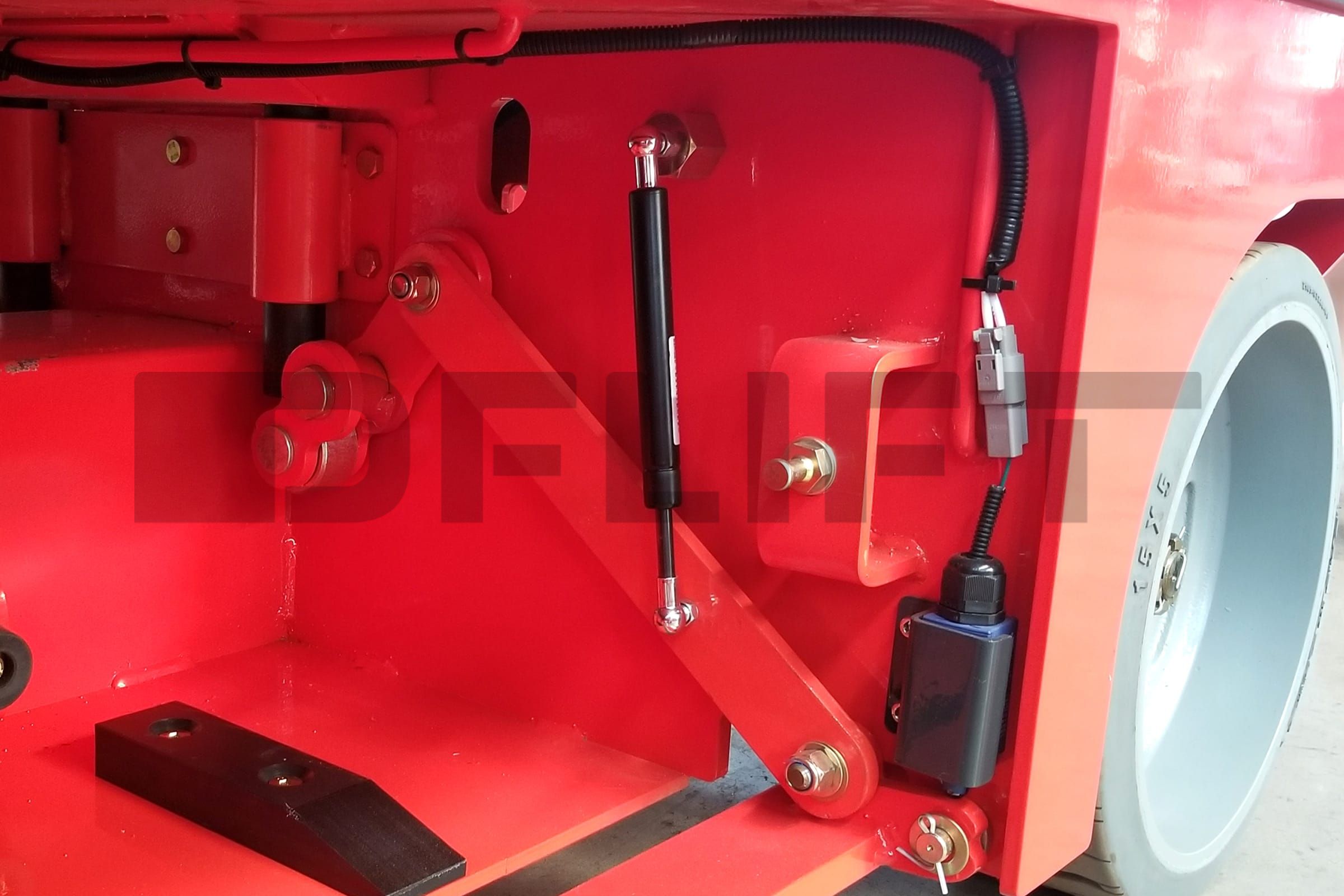 Automatic Pothole Guards and limit switches
LED Alarm lamp
Ground control panel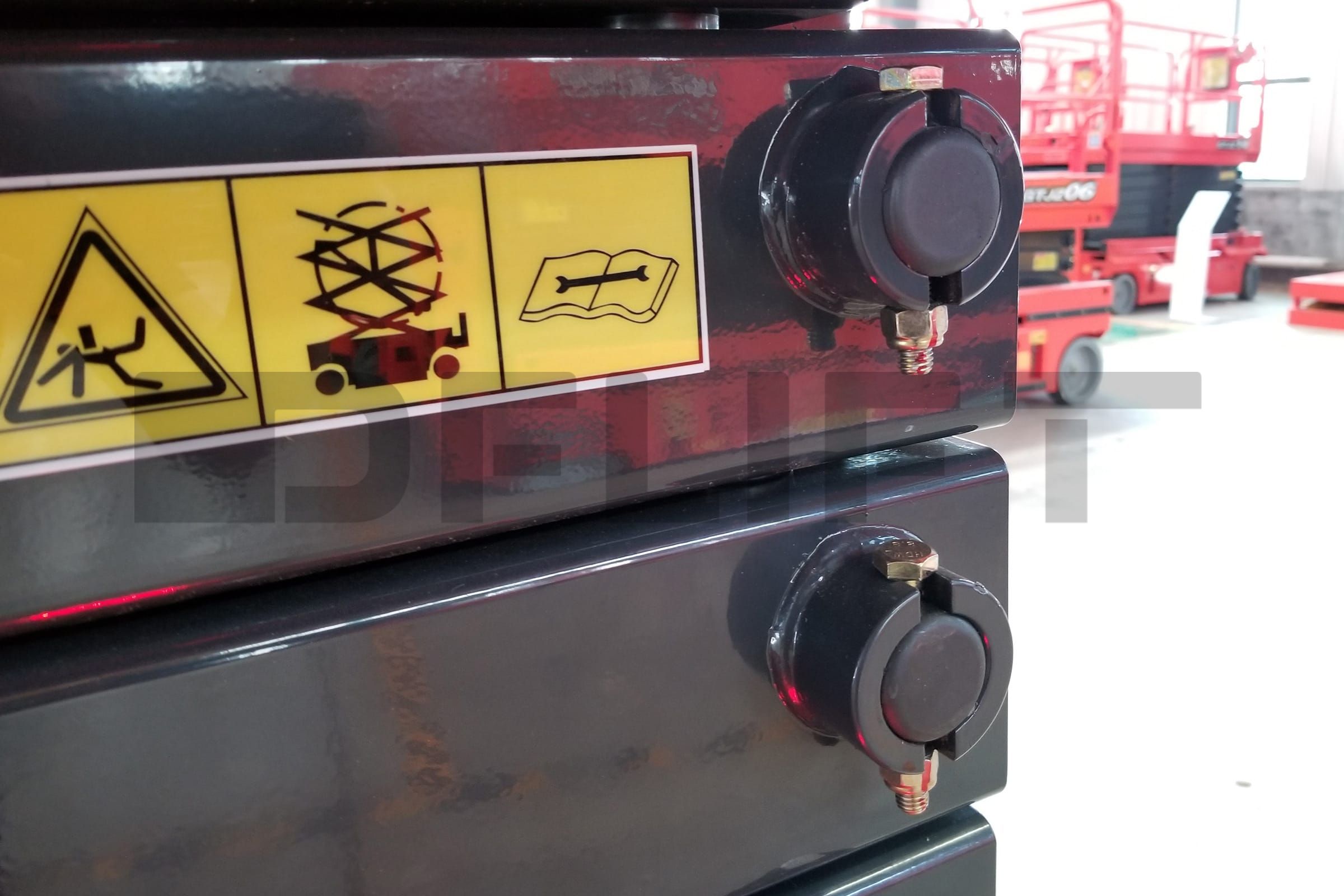 Maintenance free pin